The Columbine High School Tribute Album
Available now at http://www.mp3.com/columbine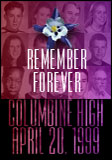 This is a compilation album, with songs from a number of bands/artists who wanted to dedicate a song or musical work to this cause. Proceeds from sales of this CD will go to funds to benefit the families of those who died, as well as numerous funds/charities in the names of those who lost their lives. For more information e-mail Ty Gonty, CEO of FBi Entertainment at admin@fbi-ent.com
Click here to listen to a RealAudio Sample from the Columbine High School Tribute Album. Download RealPlayer here.
---
Columbine Videotapes
Columbine Memorial Service Videotape
Call Bayaud Industries at 303 830 0478
Cost is $37 and it runs 2 1/2 hours.


Memorial Service Video (C-SPAN)
Length: 1.75 hours
Cost: $29.95


Littleton Fire Department Training Video
Helicopter footage fron KCNC-TV Channle 4, other television clips from local TV-stations and footage from inside the school taken a few days after the shooting. The cost is $25, and it runs 2 hours.

Send a check to:
Videotape Requests
Public Information
100 Jefferson County Parkway
Golden, CO 80419

---
Columbine Picture
The Flower That Shattered the Stone
Picture by John Fiedler
Cost is $10.
303 426 3140

---
Columbine T-Shirts Cost is $10.00
Available at local King Soopers stores - 303 574 9191


Mail to:
13100 39th Ave. Unit X
Denver, CO 80239


More T-Shirts
Yellow T-shirts with a Blue Columbine with a dedication to the victims with their names. 100% of the profits go to the Columbine fund. Available at Mugs, Etc.
7200 West Alameda
Villa Italia Shopping Center
Lakewood, CO 80226
303-922-3755

---
To reach their $1,000,000 goal, KOA has designed a

commemorative Never Forgotten lapel pin. The silver lapel pins will bear 13 long stem silver polished Columbine flowers with blue petals wrapped in a blue ribbon with the phrase, "Never Forgotten" written in polished silver on its bow. Pins are attached to a silver 3x5 card that has the pin design shadowed in the background and a poem written by a Columbine student that was placed on the memorial at Clement Park.
Pins are $5 plus shipping and handling. To help support the Never Forgotten Fund, please send your check or money order to:
The Never Forgotten Fund
P.O. Box 85
Denver, Colorado 80236

You can also call 303 691 2345 between the hours of 9:00 a.m. - 5:00 p.m. and order.
---
Columbine Remembrance Flowers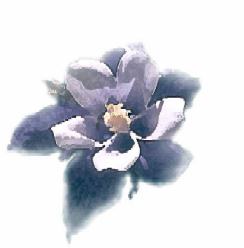 The flower is sold for about $5 in Denver flower stores.
Part of the proceeds from the plant go to the Jefferson Foundation for college scholarships for Jefferson County students.
For a list of retailers that sell Remembrance, call the Denver Botanic Gardens at:
(303) 331 4000
P.O. Box 85

---
Beanie Bears
There are two different collectible beanie bears available; 1 is silver and 1 is blue (Columbine High School's colors)
Price: $23.95 plus $5.00 for shipping or handling All proceeds will go to the Columbine Fund.
Available at:
Celebrations
303-690-1533 or 303-627-8407

One of the stores is in Littleton, at Sante Fe Drive and Platte Canyon and the other store is in Aurora, CO
Call to place your order and then you can have it shipped or pick it up at one of the stores.
Unofficial Columbine Stuffed Bears
The shooting victim Stephanie Munson and her sister Jennifer have designed a Columbine Bear. They will donate 25 pecent of their profits to help shooting victims with long term medical costs and to help repair the school. The rest of the profits wil go to the girls college funds. The bears are not official Beanie Babies made by Ty, but are similar in design.
The bears will cost $10.95, plus $3.95 in shiping and handling.
Mail a check or money order to:
Kids Kreations
P.O. Box 622002
Littleton, CO 80162

For more information, call (303) 933 1099.
Allow 4-6 weeks for delivery
The Columbine investigation report
A CD-ROM containing all the information about the shooting.
The CD-ROM costs $12 plus shipping and tax.
How to order:
call Quality Data Systems at 720-317-1131 or 720-317-1133.

An order form is available on the company's Web site, www.qualitydata.com, and e-mail orders can be sent to Columbine@wcox.com.

Mail orders can be sent to:
QDS
2450 Central Ave.
Suite B2
Boulder 80301.
11000 pages of police documents
11 000 pages of Columbine investigative materials.
The report costs $602 (5 cents per page for copying)
How to order:
Jefferson County Public Information
11 Jefferson County parkway
Suite 5530
Golden, CO 80419


Newspaper articles concerning the release of the report an its contents
Student overcame suspicion, aided probe (November 26, 2000, The Denver Post)
No report of interview with Harrises (November 23, 2000, The Rocky Mountain News)
Deputy's eyesight in question (November 23, 2000, The Denver Post)
Klebold paper foretold deadly rampage (November 22, 2000, St. Louis Post-Dispatch)
Teacher: Pleas for help ignored (November 22, 2000, The Denver Post)
Parents blindsided by plot (November 22, 2000, The Denver Post)
Gun vendors came forward (November 22, 2000, The Denver Post)
Extensive report full of surprises (November 22, 2000, The Denver Post)
'Hit list' deleted by judge (November 22, 2000, The Rocky Mountain News)
Broader look at Columbine (November 21, 2000, The Denver Post)
Columbine report released (November 21, 2000, ABCNews.com)
More Columbine Documents Released (November 21, 2000, APBNews.com)
Judge orders Columbine files made public (September 9, 2000, The Rocky Mountain News)